Customer Profiles
Self Edge -
San Francisco, United States
You can buy a pair of jeans anywhere, but what if you want something truly unique, more durable, or maybe something resembling a garment made decades ago? In any of those cases, you should definitely pay a visit to Self Edge.
Located in San Francisco, Self Edge offers three types of items: denim, leather and extremely high quality reproductions of shirts from years past. More specifically Self Edge specializes in Japanese denim, workwear and reproductions of garments from the 1930s to the 1960s which are sold from the store as well as online.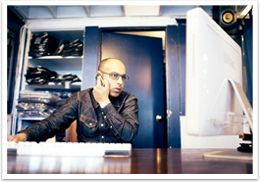 "We've been collecting denim and travelling the world studying the science between indigo and cotton for over ten years, and we're happy to be able to bring the next level of denim and Japanese artisan made leather accessories to America".
Due to exclusive rights Self Edge has worked out with the Japanese brands, they're the sole resellers in North America of the labels they carry.
"We wanted to bring these brands to North America to show the western world the beauty of what the Japanese have strived to create in terms of true artisan garments".
On top of that, Self Edge is one of the few stores in America to own a vintage Union Special Chainstitching machine. "We can hem your jeans exactly how they would have been hemmed fifty years ago by a local denim shop". They don't only hem the jeans you buy at Self Edge, you can also bring in your own jeans to be hemmed the old fashioned way.
Self Edge has been wildly popular in the media, far more than the owners would have ever dreamed of. "From winning the title 'Best Denim Store in America' in Details Magazine to feature articles in the NY Times and Courier (Japan), the media has taken a strong liking to what we've done".
Beyond just wearing it, understand it. Make sure you know where every garment on your body truly came from.
If you're a person that appreciates an extreme attention to detail in garments Self Edge might be your point of interest. "Also people that are looking for clothing produced the way it was produced almost a hundred years ago, in small batches, with the owners of the brands personally involved in production of the products are coming to our store".
"Seeing a person wander into the store and having their eyes light up because they hadn't expected ever finding, or even knowing something like our store even exists in the world is what makes this business special".
Looking forward Self Edge plans to bring in only brands that have never been sold in America, as to keep the exclusive nature of everything they sell. "In the near future our own line, Wild Child, will be released here in the states and in Japan. We're also opening another store in a couple of months named Patina. Our plan is for Patina to do for footwear what Self Edge did for denim in America".